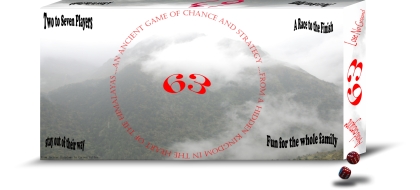 1. What's In The Box?
Game Board (19" x 20")
Game Rules
Pair of Dice
70 Game Pieces
2. How Many Can Play The Game 63?

2-7 Players (The more the merrier.)
3. How Old Should You Be To Play?
The Game of 63 is rated for ages Eight to Adult.
4. How Long Does it Take to Play The Game of 63?
It takes approximately 1 hour to play the average game, but may take a bit longer with more players.

5. How Do I Get The Game of 63?
Your Game will be shipped to you once the purchase and checkout process is completed.
6. How Do I Pay?
Credit Card via PayPal (no PayPal account necessary).
International Money Order Payable in Canada.
PayPal and other forms of payment offered through PayPal.
7. What if There's A Problem With My Order?
Please contact us imediately if you have a problem with your order.
You can view your order status by logging in and clicking on 'Account Maintenance'.