The Game of 63 by Ancient Kingdoms Ltd.

A Game of Chance and Strategy from a Hidden Kingdom in The Heart of The Himalayas.
(Shipping Included)
Description
63 - The Board Game
...is a game that comes from Bhutan and the Himalayan Mountains, an ancient board game from an ancient kingdom.
To learn more about The Game of 63 visit the page ' History - The Game of 63'
The Game of 63 is a board game that involves rolling the dice and moving your pieces around the game board. You are in heated competition with the other players to get all your pieces to the end.
This game is fun for young and old alike. Strategy and Chance play a major factor in who will win, easy and exciting to play for both kids and adults.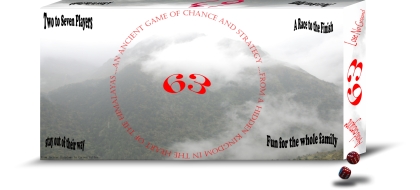 Payment can be made in the following methods:
Credit Card - Use your credit card to pay using our secure paypal payment method (no account necessary)
Paypal Account - Use your paypal account to pay
Send an International Money Order - Mail us an International Money Order (cashable in Canada)
You can choose a payment option during the checkout process.
When arriving on the PayPal payment page, please choose whether to use your paypal account or pay with a credit card.
Shipping Included!!
Your order will be shipped via Canada Post.
You will have the option of Standard or Express shipping for your appropriate country.
You will be given options for shipping during the checkout process.
When you check out your cart, you will be asked to register an account with Acient Kingdoms Ltd.
Please be sure to fill in your address and contact details.
You may use the same shipping address as your account details, or you may create a new shipping address (ie: sending as a gift to a friend)
During the check out process you will be redirected to PayPal's secure servers to complete your credit card or paypal account payment. After your payment is complete you will then be redirected back to www.ancientkingdomsltd.com.
To view the status of your order - Log in to this web site, then click on the Shop link at the top of the page. From there you can click on 'Account Maintenance' in the right menu. Choose your order located at the bottom of the page to see your order, or change your account details.
If you experience any problems with the checkout process, please contact us immediately with your name, order number, and problem.